An array of accessories can transform a simple barbecue into a sophisticated outdoor kitchen.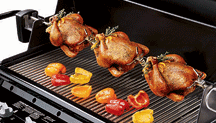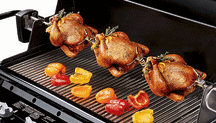 Rotisserie
Designed to fit over the length of the grill, rotisseries are generally motor-driven, though manual types are also available. If you purchase a mechanical one, make sure the electrical cord can be placed safely out of the way. And check to see if your particular model of grill has a rotisserie accessory or a brand that makes rotisseries just for it.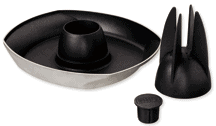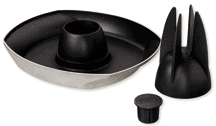 Beer poultry roaster
Not just for beer but for any liquid such as wine or juice, a beer poultry roaster is a safe and secure device to lend moisture and flavor to a roasting chicken or other fowl. You just fill the base with the liquid of your choice, insert the infuser into the cavity of the bird, and place the infuser in the tray.
Fish & vegetable racks
Perfect for any food that could fall between the grill and into the fire, these racks offer the added benefit of being easily transportable from grill to table.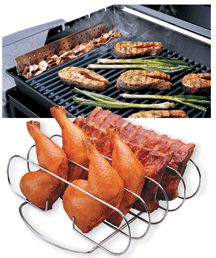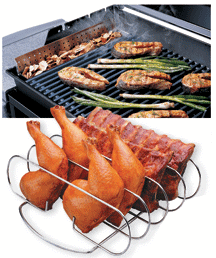 Smoker attachment
If you prefer the no-muss, no-fuss aspect of a gas grill but want the flavor that a charcoal grill imparts to food, a smoker is the solution. Just add barbecue wood chips for that smoky flavor.
Standing racks
These racks allow food to be cooked in an "upright" position, allowing you to cook more food at one time than you would otherwise be able to. There are even kabob kits with a rack that holds the skewers an even distance apart. As with fish and vegetable racks, these racks offer convenient transport.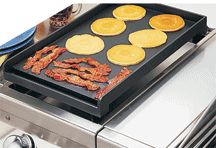 Griddle
For the perfect outdoor brunch, set a griddle on top of the grill and you're set to make eggs, bacon, sausage, or anything else you normally would on your cooktop.


Grill basket
As an alternative to fish and vegetable racks, you can use a grill basket, which also comes in handy when grilling sandwiches. Look for one with a removable handle if you anticipate closing the grill's lid while cooking.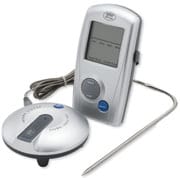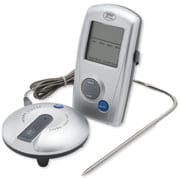 Thermometer
To ensure your barbecue is cooked to perfection, use a meat thermometer. One model even comes with a remote. While you're in the kitchen preparing the rest of the meal, it will beep to let you know your food is done.
Grill light
If you live in a climate that allows for grilling year-round, invest in an adjustable grill light that attaches to the handle of almost any grill.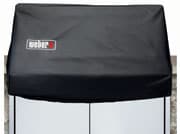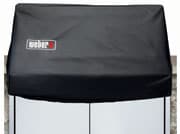 Grill covers
Choose a heavy-duty, form-fitting vinyl cover to protect your grill and prevent water from getting into the cabinets.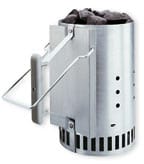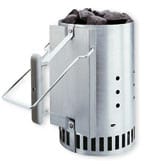 Chimney starter
The indispensable accessory for those who favor charcoal grills, a chimney starter will have your coals ready in 20 minutes. Simply place some newspaper at the bottom, fill the starter to the top with briquettes, and light the newspaper.


The right tools
The basic kit for barbecuing includes only long-handled tools to prevent burns from sudden flare-ups: spatula, tongs, fork, and basting brush. Never pierce meat when turning to prevent losing valuable juices. Use a stiff barbecue brush to clean the grill before every use.


Grill hood
Keep smoke away from the house with a ventilation hood made specifically for grills. Though it will endure damp conditions, it is a better idea to keep it covered with heavy-duty vinyl.
Slide-out tank tray
Retrieving the propane tank for refilling is an easier task if it rests on a slide-out tray.