A helpful buying guide for front and entry doors, with information about the best ways to find the right door, entry system, glazed door, and more.
"The entry door is the beginning of your journey through a house, " says Southern California architect Craig Stoddard. "It's the first part of the house that anyone going through the house looks at closely. Ideally it should emphasize the character of the house," he adds. For new and old homes alike, the front door is a key focal point.
Unfortunately, because they are exposed to weather and heavy wear, entry doors often show their age prematurely. Most older doors are made from wood, a material that has the warm, natural look and feel that most people prefer but is vulnerable to the elements. Season after season of sun and rain eventually warp, crack and bow wood, as the sun's ultraviolet rays break down wood's natural lignin, and moisture repeatedly shrinks and swells wood fibers. As a result, when given enough time, wood doors give up the ghost.
Luckily, entry and exterior doors have changed significantly over the past few years. Homeowners may now select from a vast smorgasbord of options. Hundreds of types and sizes are available, from conventional wood models to high-tech alternatives made of fiberglass composites or steel to doors that incorporate a combination of these materials.
One significant change with entry doors is that, unless you're looking for a bare-bones door replacement, you can now buy an entire "entry system." With an entry system, a door is pre-hung in its frame, the door's bottom edge interlocks with the threshold, and weather stripping encircles the door's perimeter. The hinges and lockset are designed as part of the system, and sidelites often flank the door. With a system, all components are designed and machined to work together reliably and energy efficiently.
Another change in the door industry is that the lines that once distinguished one door-building material from another have blurred. A wood door isn't necessarily entirely wood anymore. In fact, some wood doors have steel interiors, and steel doors have wood exteriors. A fiberglass or steel door may have a wood frame. And nearly any door may have a core of foam insulation. Even so, for the sake of discussion, it helps to consider doors according to their primary face material. The choice of wood, fiberglass, or steel as a surface material has the greatest impact on a door's appearance, cost, durability, and security.
Nearly all doors, wood and non-wood alike, are termed either "flush" or "paneled." Flush doors are flat and smooth on both faces. Paneled doors have rectangular recesses framed by horizontal rails and vertical stiles. Panel construction originated with wood doors to minimize cracking and warping by giving the panels enough room to shift as they expand and contract with changes in humidity. Doors with door lites have panel construction with one or more lites substituting for a panel or panels. For more about this, see Front Door Construction.
Smart Front Door Shopping
Doors are available through millwork shops, door manufacturers, lumberyards, and home improvement centers. Most manufactured doors are made by a handful of large companies; Premdor and Jeld-Wen, for example, own several smaller or regional door makers that each construct a particular type of door. These companies, in turn, ship to local distributors and dealers.
When replacing an existing door, measure the door's actual width, thickness (normally 1 3/4 inches) and height (normally 6 feet, 8 inches). If you're buying a complete entry system and intend to replace the jamb as well as the door, measure the thickness of the existing jamb, from the inside of the exterior molding to the inside of the interior molding (this equals the wall's thickness). Stand inside, and note which side the knob is on. If the knob is on the right, you have a "right- hand" door; if it's on the left, you have a "left-hand" door.
When buying a wood door, look for high-quality woods, durable finishes, and careful detailing. As a rule, the more intricate the carvings and moldings, and the thicker and wider the stiles and rails, the better the door. Nord's high-end models have 1 3/8-inch panels; lesser priced doors have 9/16-inch and 3/4-inch panels.
If you're considering an entry system, be sure all the components are from the same manufacturer; many systems are assembled by distributors, and their parts may not be designed to go together. Be sure all weatherstripping seals tightly and the threshold interlocks with the door's bottom edge.
High-quality steel and fiberglass doors have a thermal break—an insulated separation—that prevents outside cold and heat from being conducted through the door's skin and frame (with a fiberglass door, this break may simply be the wood frame). This is a must for cold climates; otherwise, frost may form on the door's inside surface.
Even if it costs you a little more, a high-quality door is sure to pay you back with smooth operation, energy efficiency, low maintenance requirements, and a great look for years to come.
Glazed Entry Doors
If you're considering a glazed entry door, you'll have many glass options to choose from, including clear glass, etched glass, beveled glass, leaded glass, and many other ornamental glazings.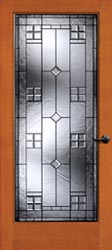 The windows in doors are generally referred to as "lites" or "lights." Lites may be standard single glazed, or for greater energy efficiency, they may be dual glazed, or even triple glazed. High efficiency glazing may also utilize low-e or other energy-efficient coatings.
For maximum light, consider a door with a large glass area. For privacy and security, opt for one or two small sections of glass or decorative glazing that obscures the view into your house. If there is a possibility of ultraviolet (UV) damage to floors, rugs, and furniture, consider choosing a glazing that resists UV rays.
Our recommendations: Look for dual, low-e glazing and be aware that, if the window is leaded, real lead (or brass) caming (the lead bands between adjoining glass panes) is more expensive than false caming. Keep security and safety in mind. Some glass, such as Pease-Shield by Pease Industries, is highly resistant to breakage.
For more about the many types of glass available and how to select the right one, please see Window Glass Buying Guide.
Wood Front Doors
When it comes to doors, wood wins the prize for appearance. It is beautiful, natural, and tactile. With either custom or manufactured-wood doors, you can choose from several species intended to be finished naturally—including oak, cherry, walnut, mahogany, maple, fir, and pine—or paint-grade doors from any of several softwoods.
Because of their vulnerability to moisture and sun, wood doors must be maintained with a durable finish.
Most mass-produced doors are made with an engineered-wood core that is faced with a veneer, a construction that minimizes warping and movement and makes a door more affordable to build. But be aware that veneers are easily damaged, particularly if they're thinner than 1/16 inch.
If you want to design your own front door, you can have a local custom shop build it for you, or you can order it from a large custom door manufacturer such as IWP or Lamson-Taylor Custom Doors. IWP lets you customize your door by choosing from a myriad of options, including many prefinished hardwood colors.
With Lamson-Taylor, you can radically push the design envelope. "If you can't find it anywhere else, we make it," says Grant Taylor. His company utilizes a high-tech construction method that virtually eliminates bowing and splitting and incorporates insulation into the door's structure. Stiles and rails are built up from two thicknesses of material that are laminated together. The panels are also made from split construction, and they're designed to sandwich an insulation core. The result is a wood door with an insulation value of about R-5 compared with a conventional wood door at about R-2. Other door makers who build up panels, stiles, and rails from two or more thicknesses of material include Simpson and Pella Rolscreen.
Solid wood doors are the most expensive type. For a 3-foot-by-6-foot-8-inch six-panel pine door, you can expect to pay $600 or more; hardwoods are pricier. When you purchase a complete entry system, the cost can easily run between $2,000 and $4,000.
Most door companies will not sell you a finished door. The door will typically be machine sanded and then finished with 120-grit sandpaper before shipping.
Finishing a wood door as soon as it arrives will protect it from changes in temperature and humidity, which can cause warping, rot, and other problems. If you must hold off on finishing, make sure the door is kept in a well- ventilated, clean, dry environment away from sunlight, and do not let it rest on a concrete floor.
When shopping for wood doors, ask the dealer if you can take home (or have shipped to you) small pieces of several different types of wood (usually referred to as corner pieces) from the manufacturer.
Samples will show you the different grain patterns and also allow you to experiment with different stains or paints to see how the wood will look when finished. Most all woods accept stain well; poplar is the ideal choice for painting.
Some companies offer sample kits for around $10. These kits contain samples of popular woods in thin rectangular pieces that you can sand and finish.
Featured Resource: Find Local Pre-Screened Entry Door Installers
How to Buy an Entry Door
For information on how to buy the main types of entry doors, please see:
Featured Resource: Find Local Pre-Screened Entry Door Installers