Ground covers can blanket an area in greenery or fill it with colorful flowers and foliage. They spread easily and are a better choice than grass for hillsides and shade. Some can be used to discourage foot traffic; others can be walked on to a surprising degree. Many are drought tolerant and most are relatively low maintenance.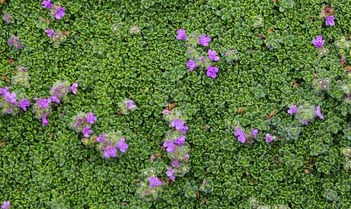 All in all, ground covers are a wonderfully versatile choice for a garden surface.
While junipers and ivies are traditionally popular ground covers, a surprising number of other plants may be an even better option for your situation.
Before you make a final decision, take a look at the area you want to cover. Ask yourself these questions:
Is it sunny or shady?
Is it level or sloping?
Will it get occasional foot traffic?
Can you provide regular water, or would it be better if the ground cover were reasonably drought tolerant?
Do you want year-round greenery, or would you prefer color for at least part of the year?
Your answers to these questions will help you narrow down your choices.
Sun versus shade with ground covers. While most ground covers do well in sun, a number of them are ideal for shadier conditions, growing well in areas where traditional lawn grasses would struggle.
Ground covers such as bishop's weed (Aegopodium podagraria), carpet bugle (Ajuga reptans), creeping Jenny (Lysimachia nummularia), epimedium, forget-me-not (Myosotis), Japanese spurge (Pachysandra terminalis), sweet woodruff (Galium odoratum), wild ginger (Asarum), and violets (Viola) offer plenty of options for a shady garden.
Hillside ground covers. Hillsides pose one of the biggest challenges for a gardener. The ideal plants for them, especially if the slope is steep, are those that will help control erosion, are able to survive in shallow soil and windy conditions, and won't need much cutting back. Among the best choices are Aaron's beard (Hypericum calycinum), Australian saltbush (Atriplex semibaccata), cape weed (Arctotheca calendula), crown vetch (Coronilla varia), heath (Erica), lantana, and sageleaf rockrose (Cistus salviifolius).
Foot traffic and ground covers. Although ground covers can't match a lawn's hardiness when it comes to tolerating play and foot traffic, a number of ground covers make good substitutes in lesser-used areas.
Some of the best known are the fillers—plants used to fill in around stepping stones and pavers. These include baby's tears (Soleirolia soleirolii), blue star creeper (Pratia pedunculata), Corsican sandwort (Arenaria balearica), jewel mint of Corsica (Mentha requienii), green carpet (Herneria glabra), Irish and Scotch moss (Sagina subulata), Mazus reptans, and thyme (Thymus).
Other ground covers that can take the place of a lawn in areas with light traffic include lippia (Phyla nodiflora) and chamomile (Chamaemelum nobile).
Water-saving ground covers. Unlike lawns, many ground covers do best with little water, making them a good choice for hot, dry climates. These include broom (Genista), Catalina perfume (Ribes viburnifolium), cotoneaster, germander (Teucrium), ice plants, Mexican or Santa Barbara daisy (Erigeron karvinskianus), trailing rosemary (Rosmarinus officinalis varieties), and wild lilac (Ceanothus).
Ground cover color. One of the greatest advantages that ground covers have over lawns is colorful flowers and foliage. Depending on your choice, you can have a seasonal color burst as with bergenia, candytuft (Iberis sempervirens), dwarf plumbago (Ceratostigma plumbaginoides), and snow-in-summer (Cerastium tomentosum) or longer-lasting blooms from plants like trailing African daisies (Osteospermum fruticosum), bellflowers (Campanula), gazanias, ground morning glory (Convolvulus sabatius), heath (Erica), ice plants, moss pink (Phlox subulata), periwinkle (Vinca), sunroses (Helianthemum nummularium), verbena, and yarrow (Achillea).
A newly popular choice is the ground cover rose, which is hardy and covered with blooms.
Lawn lookalikes. If you want the look of a lawn but not the upkeep, consider some of these grasslike plants. Although they won't take the wear and tear of a real lawn, blue fescue (Festuca glauca), lily turf Liriope), mondo grass (Ophiopogon japonicus), and zoysia provide a grasslike look.