This is in-depth buying guide for swimming pool peripherals, which includes ladders, diving boards, grab bars, jump board, slides, and more.
When choosing swimming pool equipment, the first rule is always safety first. Here's a look at the various accessories available, plus guidance for buying a swimming pool slide.
Ladders, Rails & Grab Bars
When it comes to ladders, rails, grab bars, and anything else that eases access into and out of a pool, the more the better. Children, the disabled, and the elderly especially will appreciate the extra help.
All devices that will be grabbed and used for support must be firmly attached. Ideally, these items should be installed when the pool is built so they can be firmly embedded in concrete. If you choose to add a support piece to an existing pool, choose a reputable installer and make it clear that you want very firm attachment.
Simply driving a few masonry screws through a flange into the concrete will not be strong enough. Have the contractor explain how the pieces will be attached, and get a written guarantee of strength. The best method is to cut out a substantial section of concrete and set the new hardware in fresh concrete.
Unless the pool is very narrow, you should have a ladder on each side of the deep end. A ladder should have at least two steps in the water and one above. For children, consider a ladder in the shallow end as well.
Where people enter and exit the pool on concrete steps, grab rails provide welcome aid. You may install one in the middle of the steps or one on either side of the steps.
A horizontal rail just below the waterline will give swimmers a pleasant place to rest and will help youngsters learning to swim.
Stainless steel is a common hardware material, but be aware that it can get very hot. White powder–coated components stay cooler. Or, consider covering grab bars with zippered rail covers made of a soft material that improves your grip while it cools your hands.
Swimming Pool Slides
Before you decide to put in a swimming pool slide, check your local codes; slides in your region may be prohibited, or only certain types may be allowed.
If you are permitted to install a slide, it is imperative that it be firmly affixed, meaning the hardware should sink deep into concrete. If you are adding one to an existing pool, the best method is to have a professional attach it by cutting out a section of concrete, installing the hardware, and pouring fresh concrete. If a slide begins to wobble even a little, have the professional who installed it return to rectify the installation.
Sizes & shapes. Pool slides are available in a wide variety of shapes, some with names like "Vortex." Choose a slide that is safe for your youngest but is also interesting enough for your children as they grow.
Straight slides are rarely sold anymore, not only because they do not provide enough thrills but also because they take up more space than a slide that snakes around. If you have limited area, choose a slide that runs parallel to the pool's edge for most of its length. Also, make sure the water is deep enough for the slide's speed or a slider may have a painful brush with the pool bottom.
In addition to a standard open-topped slide, you can also buy units with a tube, similar to (but much shorter than) those in a water park.
Swimming Pool Slide Materials. While older slides had metal stairs, most slides these days are made entirely of molded acrylic, PVC, or fiberglass with a slippery, high-gloss finish. Railings are typically made of stainless steel. A bright-colored slide may be an attractive design choice, but its steps can get hot in bright sunshine; a lighter color is more practical.
Running Water on Slides. A slide will be more slippery and refreshing if water is running down it. Running a hose or a plumbing line from the house is a good idea only if you will be running the water occasionally; otherwise, you will be wasting water. If you want to run water down the slide for long periods, hook up a line to the pool's circulation system. Be aware, however, that on a sunny day a good deal of water will evaporate and then you may need to add water to the pool.
Diving Boards & Jump Boards
A generation ago, around 50% of homes with swimming pools also had a diving board. But pools installed nowadays rarely include one, and the reason is … liability. A well- publicized lawsuit in 1993 (in which a 14-year-old boy did a no-handed "suicide" dive into a residential pool and was paralyzed) found both the diving board manufacturer and the swimming pool builder to be at fault, as well as the safety standard–setting organization NSPI, which ended up filing for bankruptcy.
The case sent a chill through the pool industry with ripples affecting homeowner insurance rates, building codes, and builders' willingness to install boards. No one wanted to be responsible for the next major injury.
The traditional springboard, the type of diving board found in commercial pools that is either 1 or 3 meters high (the latter is used for diving competitions), is now prohibited by most building codes for use in residential pools.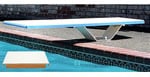 There are three basic options for homeowners, all of which are fairly low over the water. In fact, the highest option cannot exceed 40 inches from the board edge to the top of the water's surface; 20 inches is more common. The three options are:
1 A flexible board on a rigid stand called a diving board. The board itself may be made of wood coated with acrylic or fiberglass, or it may be made of aluminum. All boards have a textured no-slip finish, typically with a sandy feel. Often this will involve an extra layer of acrylic with the texturing added.
2 A flexible board on a flexible stand called a jump board. The stand is flexible because it has a pair of large opposing-force steel springs, one on each side of the stand. This does not offer the propulsion of a commercial pool's springboard, but it does provide some lift.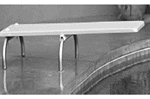 3 A rigid board on a rigid stand called a diving platform. This option may have a stand that swivels at a 90-degree angle and can also be locked into place to serve as a bench.
Whether you are adding a diving board to an existing pool or building a new pool and board together, check with local codes to be sure you meet specifications for pool depth and envelope size. Contractors have sometimes added a diving board according to a manufacturer's specifications and then found that the building inspector refused to approve the installation because local codes had slightly different requirements. Also, check with your homeowner's insurance company to see what a diving board would do to your rates.
Generally, the water depth from the top of the water's surface to the bottom of the pool at the spot just under the board should be 7 1/2 feet for a very low board and more as the board's height, length, and springiness increase. There are a number of factors specified by codes and by manufacturers, and you may be required to use a licensed pro for the installation.
Most residential boards are 18 inches wide (compared to 20 inches for commercial boards), and they range in length from 6 to 12 feet (compared with 16 feet for commercial boards).
Boards need to be anchored to a concrete pad and so cannot be installed on a pool deck. The minimum concrete pad is 4 by 8 by 6 feet and contains an anchor jig, which is basically a set of large bolts set in concrete that firmly anchor the stand for the board. The stand fits over the bolts and is secured with hex nuts. Then the board is installed on the stand. Board-and-stand combos start at around $300 and go up to around $1,500, not counting the concrete pad or installation.
If you have an old board that is showing signs of wear and tear, you may be able to replace it and re-use the same stand. But check your local codes first to be sure that is permitted.