This expert step-by-step guide explains how to tile a wall with either ready-mixed organic mastic or thinset mortar, using a trowel, adhesive, and a mallet.
If the wall substrate has been well prepared, installing the tiles will be a straightforward job.
Double-check to see that the surface is flat and firm and that adjoining walls are plumb.
Organic mastic, which comes ready-mixed, is easy to apply and allows tiles to be adjusted up to 30 minutes after installation.
Thinset mortar is more difficult to work with, but it is more resistant to water.
Use mastic for walls that will stay relatively dry, and consider thinset for a wall that will often get wet, such as a tub enclosure.
1 Using a trowel with notches recommended by the mastic manufacturer, scoop mastic out of the container, and spread it on the wall.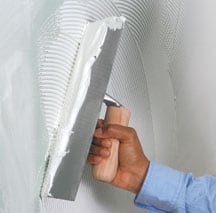 Leave the working lines visible. As much as possible, apply the mastic with long, sweeping strokes.
Continue to hold the trowel at the same angle to ensure a setting bed of consistent depth. The trowel teeth should lightly scrape the wall surface.
2 Press each tile into the adhesive. Avoid sliding a tile more than 1/2 inch. Add spacers as you go.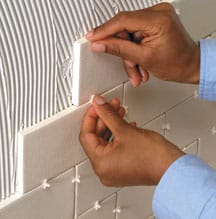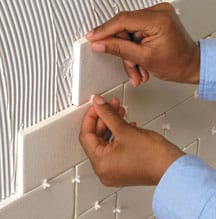 Every 15 minutes or so, check the entire installation to make sure no tiles have strayed out of alignment. Using a cloth dampened with water or mineral spirits (depending on the type of mastic used), wipe away any mastic that squeezes onto the surface of a tile.
3 Tap the tile surface with a mallet to make sure the tiles are embedded in the mastic and form a smooth wall surface.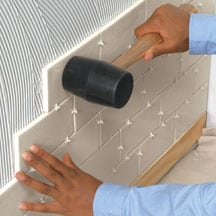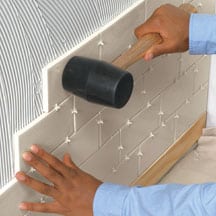 If a tile's surface is raised noticeably above the surface of its neighbor, tap the raised tile against the wall using a rubber mallet. If this does not do the trick, you may have to remove some tiles, reapply mastic, and start over again.
Find a Pre-Screened Local Tile Installation Pro