This step-by-step DIY guide will teach you how to plan and install a water feature in your yard. Learn about installing a water feature with a rigid liner and a pondless waterfall. 
A lazily wandering or gently cascading garden stream is a small river that wanders through your yard. Many streams incorporate a modest waterfall and a small pool at the bottom, though they don't have to.
Water will need to circulate through the stream while the pump is operating, and the stream should hold some water when the pump is not running. That means that the stream should be nearly level; an average drop of only 1 to 2 inches per 10 feet is ideal.
In most cases, you will need a small holding pool at the lower end of the stream. (You could instead install an underground holding tank, but that is a good deal of trouble and expense.) As with a waterfall, the pump sits in the bottom of the pool and sends water, through buried or hidden tubing, to the top of the stream.
Typically, a stream is pretty shallow—anywhere from 3 to 10 inches deep. The narrower and shallower the stream, the faster the water will move. For a natural look, have your stream meander around a bit; for a formal setting, install a straight stream that looks like a man-made canal.
Excavate for the stream, checking at all points to be sure it is gently sloped. Purchase a flexible liner and cut it 3 to 4 feet wider than the stream. Because the water is so shallow, you will need enough flat stones or gravel to cover the liner at all points.
You may choose to stack stones up near the water level at one or more points, to create a sort of rapids. Consult with your dealer to choose a pump and tubing that will supply ample flowing water for your project.
Building an Outdoor Pond with a Rigid Liner
The easiest way to build a pond is by installing a rigid liner, also called a pre-formed shell. A rigid liner limits your design possibilities, but at home centers, garden supply sources, or online you can find a good variety of sizes and shapes. And you can greatly influence the look of a pool when you install stones and plants around its perimeter.
Rigid liners are usually between 10 and 20 inches deep. Choose the deepest liner if you want to grow water lilies and raise fish. If you want to raise fish in an area with cold winters, make sure the liner is deep enough to allow for plenty of unfrozen water at the bottom.
Some shells have shelves for shallow plants; make sure they are large enough for the plants you want.
You'll need a submersible pump with filter and a nearby Ground Fault Circuit Interrupter (protected electrical receptacle). The pump may send water up to a fountain in the middle of the pond, or it may direct water farther away, via a hose, to a stream or waterfall that flows into the pond.
1. In a reasonably flat area, remove all grass and other plants. Press the liner into the soil to make an impression.
Then pour flour or sand, or use spray paint, to mark the outline. Note that some areas will need to be dug deeper than others.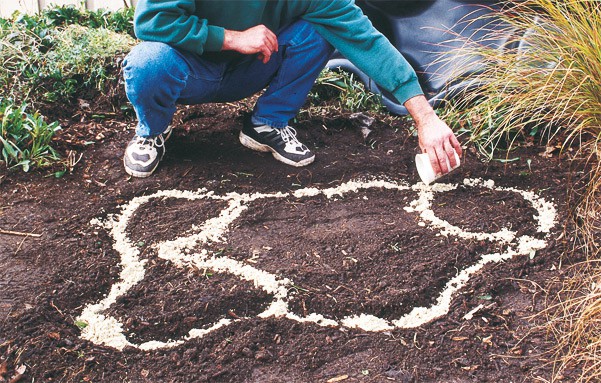 2. Dig the hole an inch or two deeper and wider than the liner. Test fit the liner, and check its rim for level in all directions; you will probably need to do this several times.
Pour in sand to support the liner so its rim is at grade level, and set the liner into the hole. You may choose to set in the submersible pump (with either a fountain or hose for a waterfall) at this point or wait until after it is filled with water.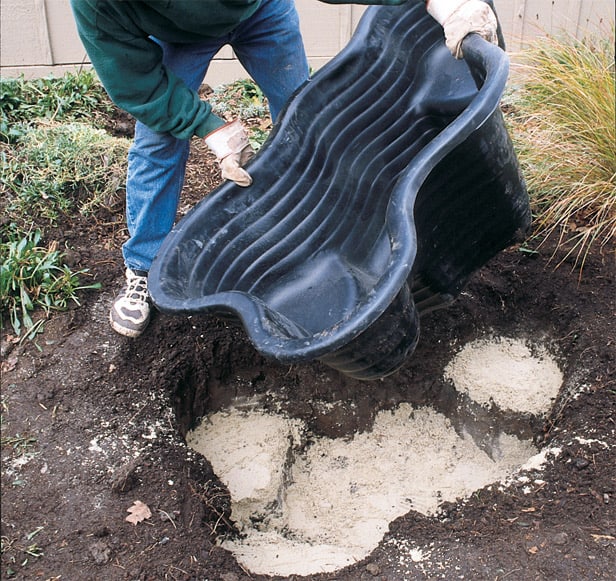 3. Once the shell is level and feels firm, slowly fill it with water. Add a 50/50 mixture of sand and soil around the perimeter.
Use a 1-by-2 or other small board to tamp the sand and soil firmly as you go. Fill to nearly the top of the shell and then force sand and soil under the lip to support it.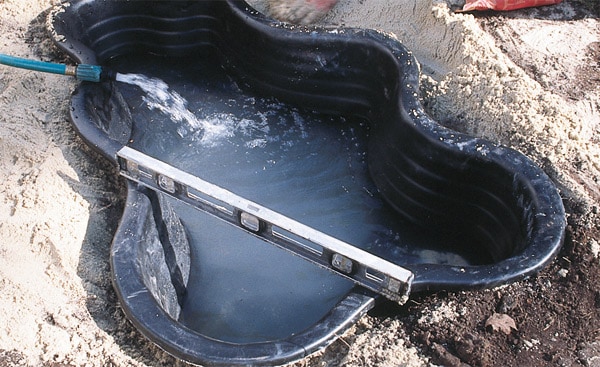 4. Set flagstones around the edge of the liner, to hide its rim. Set the stones in a sand/soil mixture so they are about 1/4 inch above the rim and barely hanging over the water.
Plug the cord in. You may need to cut the fountain's pipe to the right height, or run a hose to the top of a waterfall or stream. Cover hoses and cords with soil or mulch.

Installing a Pondless Waterfall
This water feature is also called a "disappearing" waterfall because the water just flows into the ground at the bottom. In most cases, the water flows through a bed of decorative gravel or pebbles that covers a hidden reservoir or tank.
Of course, a pondless waterfall does not allow you to raise fish, and planting possibilities are limited to flora along the side. But there are definite advantages:
• It takes up minimal space. You may choose to include several stream segments and falls, but in a small space you could simply have one or two short falls with a short stream.
• It's easy to maintain. You don't have to worry about taking care of plants and fish, and there are few places where leaves and other debris can collect.
• You don't have to worry about small children or pets falling into a pond.
• It uses a minimal amount of water.
• You can turn it off when not using it.
To install a pondless waterfall, you will need to excavate for the stream, cut and lay a flexible liner, and position stones for the waterfall. You'll also need a submersible pump (with filter) of sufficient strength to send water to the top of the fall and a length of hose to reach the top.
To construct the underground reservoir, also called a cobblestone or gravel reservoir, dig a hole and set into it a plastic bucket or garbage pail. In the bucket, position the pump, and run the electrical line and tubing. Cover the bucket with wire mesh, and place gravel or pebbles on top. Or, purchase a special reservoir made for a pondless waterfall, set it into a hole, install the pump and hose, and cover with stones.
Featured Resource: Get a Pre-Screened Local Outdoor Waterfall Installation Pro