Get your green thumb with this expert advice on how to grow container plants, including container plant growing basics such as proper drainage and planter mixes.
While you can grow almost anything in a container that you can grow in the ground, you do have to take some steps beforehand. First and foremost is to plan for drainage, which means devising a way to get the pot off the ground. You will also need to purchase the right type of potting soil.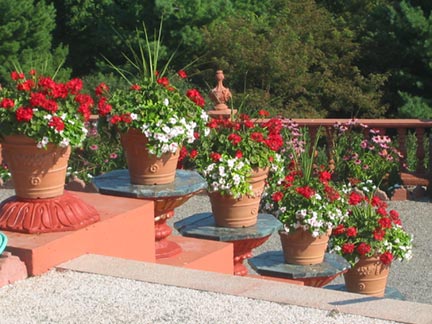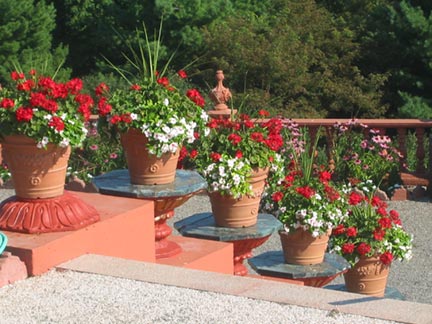 Container Plant Drainage
If excess water can't drain out of a container, you run the risk of a waterlogged plant—a surefire death sentence. Most pots come with holes in the bottom to allow excess water to drain. But if you're making a container from something that started its life with a different purpose, it's likely that it won't.
Experienced gardeners can and do keep plants in non-draining containers alive by judiciously watering and monitoring drainage. But it's simpler in the long run to provide an outlet for the water. The easiest way is to drill a hole in the bottom of your container. Use a masonry or carbide bit on stone, terra cotta, and concrete; be sure to drill a starter hole first to avoid cracking the pot. Lightweight lead and iron pots can often be punctured with a nail and hammer; heavier ones will need a metal bit.
If you don't want to drill a hole in your container, choose a slightly smaller pot that has a drainage hole and plant in that. Then place that pot inside your preferred container. The smaller pot shouldn't sit directly on the bottom of the larger container; instead, elevate it on a piece of brick, another pot, or a bed of pebbles.
Periodically remove the inner pot and drain the larger one. This method has the added advantage of making it easy to change plants in the larger container. If you want to dress up the areas between the two pots, fill in with trailing plants at the edges of the smaller container or cover it with Spanish moss.
Container Plant Growing Mixes
Garden soil is fine for the garden but not for containers. It is generally too dense and doesn't allow for sufficient drainage in a pot. Potting mixes designed for containers will drain well yet retain sufficient water to keep the plant or plants healthy. Many also include added nutrients designed for container plants.
Potting soils can be either soil-based or soil-less. The former contains some garden loam, but also include plant food and other materials such as sand, vermiculite, perlite, or bark chips to lighten it more. Potting soils tend to be heavier than soil-less mixes, but they are better at retaining moisture and nutrients and are heavy enough to hold the plants in place. They're the best choice for permanent container plantings and larger plants.
Soil-less mixes are made from peat or peat-like materials, along with plant food and other additives. Though they dry out and lose nutrients quickly, they're a good choice for annuals and for hanging baskets where weight is a concern. You can also find mixes for specific plants, such as succulents, azaleas, and rhododendrons. Some potting mixes also contain water-retaining polymers and slow-release fertilizers.
Elevating Plant Containers
Getting containers even an inch above the surface below them helps them drain properly and encourages air circulation. It also helps prevent water stains if they are placed on decks or patios. You can find plain or decorative pot "feet," small stands, or wood trivets. You can also use bricks, pieces of wood, or even other flowerpots. Some pots come with built-in feet.