A cat's paw—also called a "nail puller"— is a carpentry tool that's made for pulling nails during rough construction work.
It's easy to see where the cat's paw gets its name. Made of steel, a cat's paw is a round or hexagonal bar that curves at one end to form a pointed, cup-shaped tip with a V-slot for gripping nail heads.
You hold the tool's shank with one hand and drive the claw around a nail head with a hammer.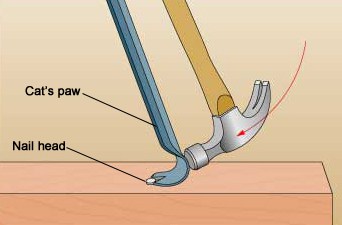 When the V-slot is firmly seated around the nail's shank, you rock the bar back to raise the head and then finish pulling the nail with the hammer's claw.
The cat's paw is invaluable for demolition work but, because it tears up the wood around the nail head, cannot be used for finish work.