What dimensions should a new sauna ideally have? To minimize heat loss, standard ceiling height is 7 feet. Typical room sizes are from 4 by 4 feet to 8 by 12 feet.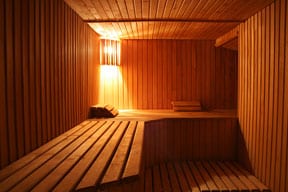 © Oleksandr Kalyna | Dreamstime.com
When planning a sauna's size, figure you'll need at least 2 feet of bench space for each bather; ideally, bathers should be able to recline, so, if possible, allow 6 feet in one direction.
Be aware that the size dictates not only how many people can comfortably sauna at a given time but also the output capacity of the heater you'll need.
Most saunas have benches at two heights, an upper bench, about 36 inches high, and a lower bench, about 18 inches high. Upper-bench widths are typically 18 to 24 inches.
The lower bench has three functions: it serves as a step, provides a footrest when one is seated on the upper bench, and offers a significantly lower temperature zone for when the upper-bench area feels too hot.
Some manufacturers make a sliding lower bench that eases cleaning. Most saunas have removable duckboard flooring; some offer flooring that is made of flexible, web-like polymer sections that simply snap together.
Some saunas have windows; many have a glazed door that provides an open feeling. Glass may be clear, opaque or even etched with a design. But remember: the more windows, the greater the heat loss. Choose energy-saving glazing that has a 1/2- to 1-inch air space between the two outer layers of tempered safety glass.
Costs of Buying & Operating a Sauna
Prices for saunas start at about $1,800 for a two-person, 4-by-4-foot precut model. Prefabricated models start at about $3,000. The ultimate price of a sauna depends on the unit's size, the species and quality of woods, quality of equipment, and options–which are many.
Finnleo, for example, offers spruce doors with traditional windows, window grids, an all-glass door, a Douglas fir door, and etched glass. Finlandia offers an optional cedar exterior and negative etched-glass door for privacy.
When determining how much to spend, remember that a sauna pays off not only through enjoyment, but by increasing property values and maybe even decreased healthcare costs.
How much does a sauna cost to operate? That depends on your local cost per kilowatt hour (noted on your electric bill), the kilowatt rating of your heater, and how much you use your sauna. Multiply your costs per kilowatt hour, say 10 cents, by the heater's rating, say 6 kilowatts. In this example, the sauna would cost 60 cents per hour to operate. An idle sauna doesn't cost anything.
Featured Resource: Get a Pre-Screened Local Sauna Installation Contractor