Expert advice about buying the right type of metal roof coating when re-coating an existing metal roof. Covers main types, cost of roof coating, and more. 
Metal roof coatings improve the look of a metal roof while also providing a thick, durable barrier that prevents rust and corrosion. But factory-applied metal roof coatings can wear over time, losing some of their protection against rust or corrosion. Re-applying metal roof coatings can solve this problem, while improving the roof's appearance and, in some cases, boosting its energy efficiency.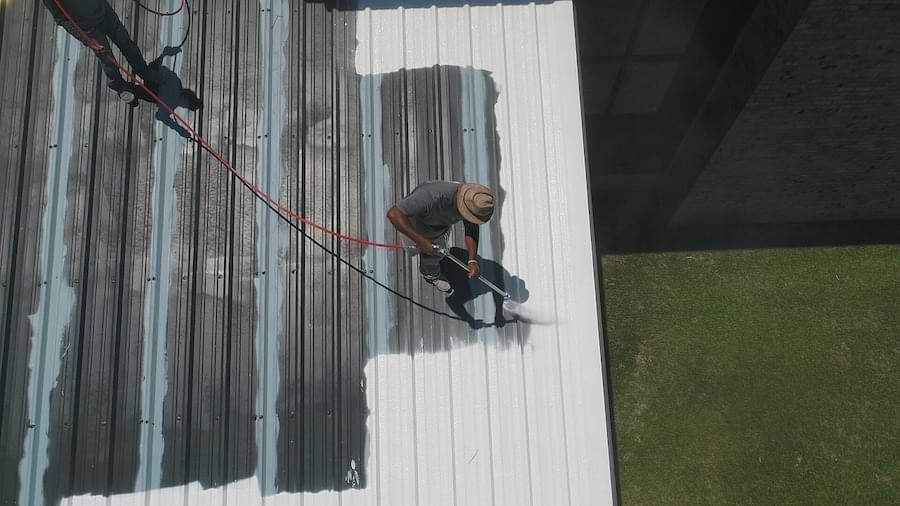 Several types of roof coatings are available, each with its own benefits and applications. This buyer's guide will help you understand the various options so that you can choose the coating that's right for your environment and type of metal roof.
Note that roof coatings are different from metal roof paint. Though both are technically coatings, products termed "roof coatings" are more protective and designed to be more durable than paint. For more about metal roof paint, see Pros & Cons of  Painting Metal Roofing.
Types of Metal Roof Coatings
The right roof coating for a metal roof will depend on the local conditions and the specific type of metal roofing. For example, reflective coatings are often used on metal roofs in warm climates to help minimize heat gain through the roof, while corrosion-inhibiting coatings are popular in coastal regions that have high humidity or salty sea air to protect against rust and corrosion.
The most common types of roof coatings:
Acrylic coatings provide excellent UV protection and help to prevent rust and corrosion. Their elasticity is an excellent attribute for holding up well with metal's expansion and contraction.
Silicone coatings, a favorite, have excellent thermal stability and elasticity, so they are ideal for roofs in areas with extreme temperature fluctuations. They are also highly resistant to moisture and can help prevent leaks.
Polyurethane coatings are very durable and provide excellent protection against abrasion and impact. They are great for metal roofs that are subject to foot traffic or are exposed to harsh environmental conditions (or, for commercial roofs, where industrial chemicals or oils are present).
Asphalt coatings offer basic protection affordably. They help to prevent rust and corrosion.
Elastomeric coatings, in the same family as asphalt, are a step up because of their elasticity—they hold up well with the metal's expansion and contraction. They are excellent for metal roofs because they expand and contract with the metal, and most are light colored for maximum energy efficiency.
Reflective coatings, designed to reflect sunlight, can help to reduce cooling costs in hot climates. They are available in a range of colors and can be applied over other types of roof coatings.
Best Coatings for Particular Types of Metal
Not all types of roof coatings work on all types of metal roofs. Pay attention to these general guidelines for various types of metal:
Steel and galvanized steel roofing. Acrylic, silicone, and polyurethane coatings are all suitable for steel and galvanized steel roofs, such as corrugated and standing seam metal roofs. Reflective coatings can also be used in hot climates to save energy and help reduce cooling costs.
Aluminum roofing. Acrylic and silicone coatings are commonly used for aluminum roofs—they provide excellent UV protection and are resistant to corrosion. Reflective coatings can also be applied to help improve energy efficiency.
Copper roofing. Copper roofs are usually left uncoated to maintain their natural beauty, because they develop a natural patina over time that protects against corrosion. However, in situations where homeowners want them coated, acrylic or silicone coatings can be used.
Zinc roofing. Zinc roofs are also best left unfinished, as they have built-in protection. Where homeowners want them coated, silicone or polyurethane coatings are recommended.
Cost of Metal Roof Coatings
The cost of applying a roof coating to a metal roof will depend on several factors, including the size of the roof, the type of coating being used, and the local labor costs.
On average, the cost to apply a roof coating to a metal roof ranges from $0.75 to $1.50 per square foot. However, this cost can vary significantly depending on the specific project details.
For example, some roof coatings may require multiple coats to achieve full protection—this will increase the overall cost, as discussed below. Additionally, if the roof requires extensive preparation work, such as cleaning and repairing damaged areas, the cost goes up.
Get 2 to 3 quotes from reputable roofing contractors in your area. Be sure to ask for a detailed breakdown of the costs and the scope of work included in the estimate to avoid any surprises or unexpected expenses.
When Are Multiple Coatings Needed?
What situations or types of roofs or coatings require multiple coats? Here are some typical situations that call for multiple coatings:
Poor roof surface condition. If the surface of the metal roof is in poor condition—like it has extensive rust or corrosion—it may require multiple coats.
Extreme weather conditions. If the roof is located in an area with extreme weather—like heavy rain, strong winds, or high UV exposure—multiple coats may be needed.
Reflective coatings. Reflective coatings, meant to reduce cooling costs by reflecting sunlight, may require multiple coats to reach the level of reflectivity wanted.
Water-based coatings. Some water-based coatings, such as acrylic or asphalt emulsion, may require multiple coats to provide adequate protection against rust and corrosion.
Low-quality coatings. If a lower quality coating material is used, multiple coats may be needed to get the same level of protection that high quality coating's offer.
Where Do Homeowners Buy Roof Coatings?
Many types of metal roof coatings can be bought by homeowners and applied as a DIY project. However, some coatings call for professional help, as discussed below.
If you go the DIY route, be sure to carefully read and follow the manufacturer's instructions to ensure that the coating will last and provide the protection you want. Additionally, pay attention to all safety precautions when applying a roof coating, such as wearing protective clothing and equipment and working on the roof in safe conditions.
You can buy roof coatings from most building supply stores like Home Depot and Lowe's and from online retailers.  Roofing suppliers also carry a wide range of roof coatings and can recommend the right ones for your particular metal roof. You can also buy coatings from online retailers, such as Amazon and eBay, and have them delivered directly to your doorstep.
Which Coatings Are Best Applied By A Pro?
Applying some types of roof coatings calls for specialized tools or techniques, and may have safety risks. Here are some examples of coatings that are usually best applied by a pro:
Spray-applied coatings. Spray-applied coatings, such as polyurethane foam and elastomeric coatings, require specialized equipment and safety gear to apply. If not applied properly, they can be hazardous to the health of the applicator and others nearby.
Reflective coatings. Reflective coatings, such as cool roof coatings, require careful application to ensure an even and consistent coverage, which can be challenging for inexperienced homeowners.
High-build coatings. High-build coatings, which are designed to provide an extra-thick protective layer, require specialized equipment and may be challenging for homeowners to apply without creating inconsistencies in the coating.
Corrosion-inhibiting coatings. Corrosion-inhibiting coatings, such as zinc-rich primers and rust inhibitors, require proper preparation of the metal surface and careful application to ensure an even and protective layer.
Did we answer all of your questions about the types of coatings for metal roofs? Please check out the "Conversation" at the bottom of the page if you'd like to explore this topic further.
[