Expert advice on the importance of priming a metal roof before painting it, along with recommendations of the best types of metal roof primers to choose.
As discussed in the article Pros & Cons of Metal Roofing, metal roofs are durable, long-lived, and energy-efficient. Most new metal roofing products have durable finishes that are guaranteed for a long time—in some cases, 50+ years. But older metal roofing can sometimes fade or peel, or may become damaged over time. That's when painting metal roofing or applying a metal roof coating may be an important option to consider.

Always check with the roofing manufacturer or installer—and read your warranty—before priming, painting, or coating a metal roof. In some cases, priming, painting, or coating a metal roof will void the warranty.
Should You Prime Before Painting a Metal Roof?
Yes, before painting or coating most metal roofs, a metal roof primer is recommended.  Using a primer before painting provides several benefits that help to ensure a high-quality, long-lasting finish. For example, a primer provides:
Better adhesion to the metal
Increased durability by providing an additional protective barrier against weather
Increased coverage of the paint or coating being applied (this can reduce the number of coats needed)
Prevention of rust, corrosion, or other stains bleeding through the paint
Better appearance of the top coat by smoothing out any imperfections
Best Primers for Metal Roofs
There are a variety of metal roofing primers available on the market, including acrylic, epoxy, and urethane-based primers. The primer that is best suited for your metal roof will depend on the the roof's condition and type of metal, and the roof paint or coating you intend to apply.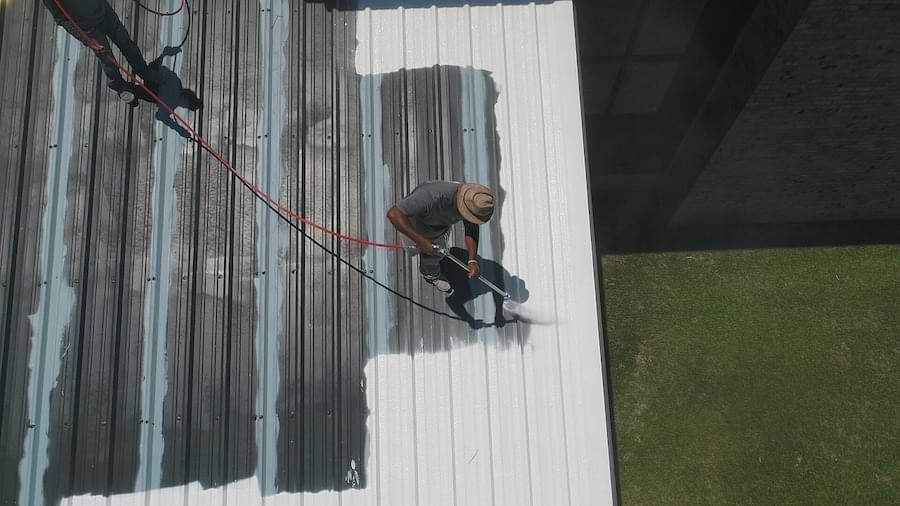 Following are some of the top brands of primers. All of these can be used on all types of metal roofing, including galvanized steel and aluminum. All are compatible with oil-based, water-based, acrylic, polyester, and silicone paints. They are all easy to apply and dry quickly. Most are low-VOC 100% acrylic primers with excellent adhesion and stain-blocking properties.
Rust-Oleum Primer
KILZ Premium
Sherwin-Williams Pro Industrial
Benjamin Moore Fresh Start 
Zinsser Bulls Eye 1-2-3 Plus
NOTE: Though these recommendations mention that the primer can be used with oil-based paints, oil-based paints are not typically recommended for metal roofs because they can cause the paint to crack or peel over time. See more about this: How to Choose the Right Paint for Metal Roofing 
When making a choice, check with the manufacturer's guidelines and recommendations.
Additionally, be sure to properly clean and prepare the surface of your metal roof before applying a primer to ensure maximum performance of your metal roof finish. Generally, a primer is applied in thin, even coats using a brush, roller, or sprayer. After the primer has dried completely, the roof coating can be applied over it.
In Conclusion
Applying a primer before painting a metal roof is important. A metal roof primer improves adhesion, durability, and coverage of the top coat, and helps prevent any rust or stains from bleeding through the paint. The best primers are easy to apply, dry quickly, and will work with acrylic, polyester, and silicone paints on all types of metal roofs.
Did we answer all of your questions about the benefits and drawbacks of painting metal roofs? Please check out the "Conversation" at the bottom of the page if you'd like to explore this topic further.