If you're unhappy with the way your independent contractor is handling your project, your first step should be simply to express your concerns in person. Most contractors will make every effort to ensure that you are satisfied with their work.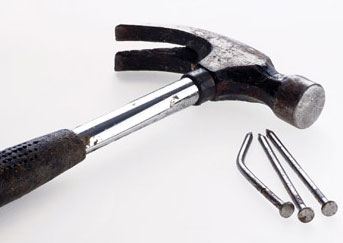 Should you reach an impasse, an architect, designer, or other professional who knows your project may be able to help broker an agreement. If such personal approaches do not work, you can act on one or more of the following recommendations, beginning with the least drastic measure:
Send a certified letter outlining the contract requirements you consider to be unfulfilled and stipulating a reasonable time frame for compliance. Sometimes this is enough to inspire action.
File a complaint with the Better Business Bureau by calling (703) 276-0100 or visiting www.bbb.org. The BBB will forward your complaint to the contractor, who may consider your requests in order to avoid an unfavorable BBB report.
Contact the local or state board that licenses contractors, if one exists in your area. Contractors have a strong incentive to maintain a clean record with the licensing board because some of these boards have the power to levy a fine or even revoke a license in cases involving serious negligence or incompetence.
If both parties agree, try to resolve the dispute informally with the assistance of a mediator. The BBB and many local organizations offer mediation services to help businesses and consumers work out mutually agreeable solutions.
Present your case before an impartial arbitrator. More formal than mediation, but much less costly and time-consuming than litigation, arbitration gives both parties the opportunity to present evidence in a joint hearing. The arbitrator's decision is usually binding. You can arrange for this option through the Better Business Bureau or through the American Arbitration Association (www.adr.org).
If you are seeking minimal damages (the amount varies from state to state but is usually no more than a few thousand dollars), bring your case to small claims court. You will not need an attorney, and court costs are usually modest.
If you are suing for a large amount of money, you can consider filing a civil suit. This option has definite drawbacks: The case may drag on for months or even years, and your costs can exceed any award you may receive. Remember that if you have fired a contractor who has essentially done the work as agreed, you are the one who will be found to have breached the contract. Make every effort then, when drawing up a contract, to be explicit about the work to be done.
Join the Conversation