This article introduces childproofing articles on HomeTips, discussing both how to protect your small children from your house and how to protect your house from small children.
Providing a healthy physical environment for your baby means more than safety gates and cuddly toys. In fact, it begins from the moment of conception.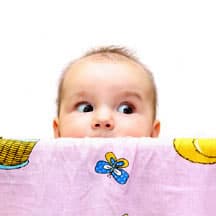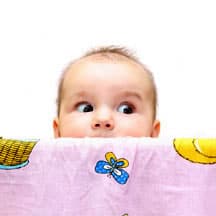 Making your home safe for baby begins by making it healthy and safe for you. It means ensuring that no harmful microscopic particles or gases are contaminating the air in your home. It means being prepared to cope with unexpected disasters in the world outside your front door. And it means adapting various systems or rooms in your home to create an environment that is user-friendly and safe for people of all abilities and ages.
Also See:
• How to Buy Safe Baby Gear
• Room-by-Room Childproofing
• General Childproofing Techniques
Protecting Your House from Kids
While the purpose of childproofing is first and foremost to protect your child from household hazards, you also want to protect your house and its contents from your child. Here are a few techniques.
What you prize, move to where small children can't reach (after all, why shouldn't that crystal bird be able to fly?).
You may want to leave a few safe and replaceable items within reach to teach the meaning of "touch with only one finger." And don't forget the obvious: No one wants to find his or her 3-year-old carefully snipping $20 bills into shreds with kiddie scissors.
Stow visually tempting objects behind closed doors, where they won't lure your child to climb shelves. A clarinet, set of golf clubs, or pair of satin shoes look irresistible to a young, imaginative child. It's easiest if such objects stay hidden except on rare occasions. If they have to stay in view, place them well out of reach.
Store valuables and delicate items—cameras, table linens, and jewelry, for example—in drawers or cabinets with childproof latches.
But there's no need to shut everything out of sight. You might want to hang favorite china plates high on the kitchen or dining room wall. Let children peep at delicate collectibles in a glass-fronted display cabinet. Make use of such out-of-reach locations as the fireplace mantel, piano top, or upper bookcase shelves.