Planning to do a major remodel on your house? Here are 8 quick ways you can help the process go smoothly.
Remodeling and major home improvements can increase the value of your home and dramatically improve the quality of your life in it.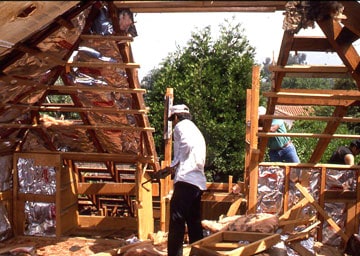 But taking on this type of challenge is not for the meek. Major remodeling and home additions can be very complicated and expensive, and they can turn your world upside down if you're living in the midst of the project. In this section of HomeTips, we'll guide you through the pitfalls and gird you with the knowledge you need to achieve a successful result.
We'll begin here with a few quick tips about how to avoid some of the larger remodeling disasters. Most remodeling projects—even those that come off without a hitch and on time—are stress-producing. And when things don't go smoothly, it can be a living nightmare. You can't control unforeseen calamities, but you can take steps to reduce the day-to-day upheaval:
Plan ahead. There's no excuse for living with a hole in the wall because you didn't order the window in time.
Schedule your project around extreme weather. And do not get your heart set on hosting Christmas dinner if, say, you started a major project in October.
Do not go out of town. You do not want anyone else making decisions for you, and work can stall if you are not watchful over your project's progress.
Go easy on your nerves and plan to be elsewhere when work is exceptionally noisy or fumes are noxious.
Make sure you have the phone numbers of all the major players on your project and make sure they have all of yours, including home, work, and cell. Impress upon them that you are only a phone call away and would rather be called if there is the slightest doubt about anything than for them to guess at the answer.
Draw up and put in writing house rules regarding the use of bathrooms, phones, the refrigerator, whether or not pets are allowed outdoors, and other issues of this type.
Seal off all work areas from the rest of the house with plastic sheeting.
Store all valuables off of the premises for the duration of your project. If you must give out keys and alarm codes, consider having your locks and combination changed after your project is done.
NEXT SEE:

• Building & Remodeling Permits