You can find roses available in containers throughout the year, but most growers recommend buying and planting roses when they are dormant, in winter or early spring. That's when you'll find bare-root roses, which generally cost less and set roots much more quickly, though you won't be able to see the actual flowers. You will need to plant bare-root roses before the start of the growing season. Container roses can be planted at any time, although it's best to avoid times of extreme heat or cold.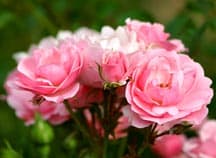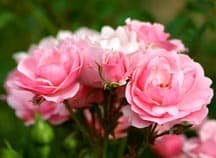 Buying roses available in your local nursery will usually guarantee the plants will do well in your climate (national chain stores tend not to specialize by area in their selections). There are also numerous reputable mail order and Internet suppliers who will have more unusual or hard-to-locate roses.
Old roses, species roses, and miniature roses are almost always grown from their own roots. Modern roses, though, are typically grafted onto a standard rootstock. These are called budded roses. Both grow well. Own-root roses may be a better choice if your plant is killed to the ground by winter frost as budded roses will grow back from the rootstock. The problem can be prevented by proper winter protection (see Caring for Roses).
When buying bare-root roses, look for plants with many thick, green canes, a large cluster of roots, and a strong-looking bud union (the spot on the trunk where the rose was grafted onto the rootstock, generally a swollen bump). Avoid plants with dried out or weak roots and shriveled canes, or ones that are beginning to bloom.
Roses in containers should have strong growth and a firm rootball with no roots protruding from the container. They should also be in at least a 5-gallon container; if not, the roots were probably cut back when the rose was potted and the plant won't be as strong.
You may also find grades on your roses. For roses that have been grafted onto a rootstock, or budded, the grades are 1, 1 1/2, and 2. Grade 1 roses are the best. Grade 2 roses are often weak. Roses grown on their own stocks, which are generally smaller than budded roses, are graded 3X, 2X, and 1X; look for roses graded 3X.
Labels may indicate that the rose has won an All-America Rose Selections (www.rose.org) award. These roses have been grown in test gardens across the United States by members of AARS, a non-profit organization of growers. The best are given these awards.
Another source for rose information is the American Rose Society (www.ars.org), an educational institution that rates roses after growing them in test gardens. However, not all roses are included, and some roses may not win that do very well in some locations but aren't ideal for all climates. Use the recommendations as guidelines, but don't necessarily rule out a rose because it might be ideal for your garden.
How to Identify & Choose Roses
All roses have the same basic needs. But not all roses are the same. Some stand up straight, others tend to be floppier, still others climb or sprawl.
Plant size can range from 2 feet to over 20 feet. Blossom types also vary, with some plants sporting the classic florist's rose, others a cupped or rosette shape, and still others flat and somewhat sparse petals. The blooms may sit by themselves on a stem or form part of a large cluster of blooms.
Another important difference is the blooming season. Some roses bloom prolifically in spring and then fade to foliage only for the rest of the growing season. Others, known as repeat bloomers, may not be quite as full in the first bloom but will continue to produce flowers throughout the summer into fall.
Finding the type of rose you want means knowing the general characteristics of the different categories of roses and the descriptive terms used for rose blossoms.
Rose blossoms are defined by the number of petals and whether the blossom appears flat, as found on many species roses; is cup-shaped, typical of David Austin roses; or has long, pointed buds that open around a high center, as found on hybrid tea roses and grandifloras.
A single rose has fewer than 12 petals. A semi-double rose has between 12 and 16 petals. A double rose has between 17 and 25 petals. A full rose has between 26 and 40 petals. Very full roses have at least 41 petals, and some may have over 150 petals.