Roses have some specific needs, and they are also more prone to certain pests and diseases than are other plants.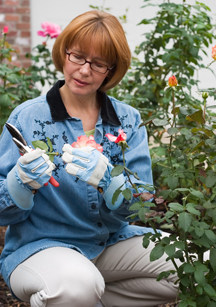 © Eugene Bochkarev | Dreamstime.com
Still, roses are far sturdier than most people think, so choosing a plant that will do well in your climate, planting it in good soil in a prime growing location, and taking the time to meet its basic care needs will help keep problems at bay and make your roses no more troublesome than any other plant.
Watering is the most important aspect of keeping roses healthy. Rose roots can reach up to a foot and a half deep, and they don't like to dry out. Instead of watering often but shallowly, give roses regular deep waterings less frequently.
Many gardeners use flood basins, drip irrigation, or soaker hoses. Avoid overhead watering if possible; wet leaves can lead to fungal diseases. If you live in a dry-summer area, though, you may want to sprinkle the leaves to remove dust and dirt. Do so early on a warm and sunny day so the leaves will dry out before evening.
Container roses will need to be watered more often, particularly if the weather is hot and windy. For both container and in-ground roses, mulch can help retain moisture. If your ground does not freeze in winter, you will need to water if there are no winter rains.
There are any number of problems that can attack roses, from too little nutrients to sunburn to damage from a number of pests, including aphids, beetles, and caterpillars, and diseases, including blackspot, powdery mildew, and rust.
Don't panic; very few roses are hit by all of these problems, and almost never at once. Sometimes it's worth a little damage to encourage the good bugs, which in turn keep the bad bugs and diseases in check. Some preventative maintenance is usually all that's required to keep your roses in good shape.
Your first step is to choose roses that will work well with your garden and to give them a good start with sunshine, well-draining soil, and regular watering. Get rid of dead leaves and spent flowers and trim off diseased canes.
Inspect your plants regularly, and use soapy water or a spray from a hose to remove many of the most common pests. Encourage the good bugs, such as ladybugs, lacewings, and even wasps. If you must use pesticides, consider natural and organic ones. Use them carefully, following instructions, and keep children and pets away. (For more information, see the section on Pest Control.)
Join the Conversation