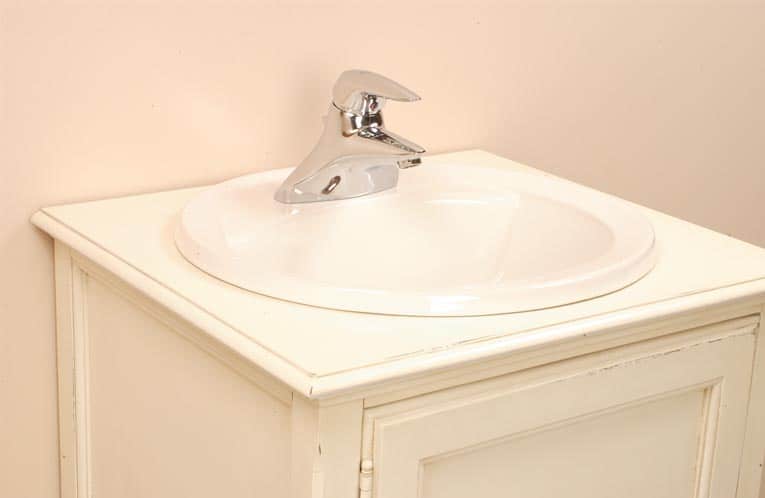 A bathroom sink that has a lip which rises above the countertop is known as a self-rimming sink. Fortunately for do-it-yourselfers, installing a self-rimming, drop-in bathroom sink bowl is a relatively easy job.
The instructions that follow will show you how.
When installing a self-rimming sink in a new countertop, the first step is to make a cutout for the bowl.
Fortunately, nearly all self-rimming sinks come with a template that you can use to mark the exact size and shape of this hole on the countertop. Just follow the instructions on the template.
On a small vanity, you generally plan to center a single sink, both from side to side and from front to back. Similarly, dual sinks are typically spaced evenly on the countertop.
1Use the sink manufacturer's template to draw the cutout line on the countertop. If no template is provided, set the bowl upside down on the countertop and trace the outline, then draw a second line about 3/4 inch inside that line to serve as your cut line.
2Carefully drill a 3/8-inch starter hole inside the cut line. Using a power jig saw (saber saw), begin cutting along the line. Before finishing the cut, screw a scrap board longer than the span of the cutout to the center of the cutout to prevent it from falling when you finish cutting. Remove the support after you finish the cut.
3Place a bead of plumber's putty around the bottom edge of the drain-assembly housing's lip, then press the housing into the drain hole. Attach the gasket and washer, then tighten the locknut (hold the handles of a pair of pliers in the housing with a screwdriver to prevent the housing from turning while you tighten the locknut). Remove any excess plumber's putty. Attach the tailpiece to the housing with the slip nut and washer.
4If you haven't already done so, install the faucet. When the faucet is in place, turn the sink upside down and run a bead of silicone adhesive along the underside of the molded lip (adhesive is included with some sinks). Turn the sink over and carefully align it with the countertop's front edge. Press firmly around the lip to form a tight seal. After the adhesive has set, apply a bead of latex caulk around the edge, then smooth it with a wet finger. Install the pop-up assembly (see How to Install a Faucet).
5Set the sink in place, firmly pressing down all edges to assure a secure seal.