Following are a few tools that can be helpful for do-it-yourself plumbing installation and repair jobs.

Pipe wrenches
Used in pairs, one to grip the pipe and the other to turn the fitting, pipe wrenches have adjustable, toothed jaws designed for gripping and turning threaded pipes and pipe fittings. They come in several sizes, from 12 to 18 inches long—the larger the wrench, the larger the pipe it will fit. Lock a pipe wrench onto a pipe or fitting so that, during turning, the force is applied against the permanent jaw, not the adjustable one. When turning appearance-grade pipes, such as those with a chrome finish, protect the material from scratches by wrapping the pipe wrenches' jaws with duct tape. You can buy a pipe wrench on Amazon.
Adjustable wrench
This type of wrench will adjust in size to fit a range of nuts, bolts, or fittings that have flat sides. These types of wrenches come in several sizes; a 10-inch wrench, which can open up to a 1 1/8-inch span, is a good, general-purpose size. When using an adjustable wrench, always position it so that the force pushes against the fixed jaw. You can buy an adjustable wrench on Amazon.

Rib-joint pliers
For gripping and turning pipes, nuts, and fittings, rib-joint pliers are very handy. With these, a pivot slides along a slot and engages in channels at various positions to adjust the size of the jaws so they will firmly grip objects from small to large. You can buy rib-joint pliers on Amazon.
Locking pliers
With a clamping action that locks onto an object such as a bolt or a pipe, locking pliers have a knurled screw mounted in one handle that adjusts the size of the tool's jaw to fit the object. You can buy locking pliers on Amazon.

Hacksaw
Able to cut nearly all types of pipe, from steel to plastic, a hacksaw has a removable 10- or 12-inch-long, fine-toothed blade that's held taut by an adjustable steel frame. For making cuts where the frame of a conventional hacksaw won't allow access, you can use a 'mini,' or 'flush-cut,' hacksaw; its blade protrudes straight out from the handle. You can buy a hacksaw on Amazon.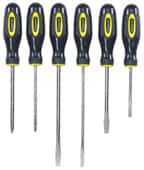 Screwdrivers
Needed for a variety of plumbing tasks, from changing faucet washers to disassembling plumbing-related appliances, screwdrivers come in an assortment of sizes and types. You will want to have two or three sizes each of standard, flat-bladed screwdrivers and Phillips screwdrivers. A '4-in-1' driver is a handy option; it has a removable shank with interchangeable Phillips and standard tips in two sizes each. Be sure the driver fits the screw's head snugly; otherwise, it will mangle the screw and the tip of the driver. You can buy screwdrivers on Amazon.
Measuring tape
A few plumbing jobs, such as measuring runs of pipe, call for a retractable steel tape measure. Get a 25-footer because you'll be able to extend its blade unsupported for several feet. You can buy a measuring tape on Amazon.
Pipe cutter
Two types of pipe cutters can be helpful for do-it-yourself jobs. First, a plastic tubing cutter, which looks similar to a pair of pruning shears, can make quick cuts through rigid and flexible plastic tubing such as sprinkler pipe. Second, a pipe cutter with a sharp cutting wheel and an adjustable jaw grips onto a copper or steel pipe; you rotate it around the pipe, repeatedly tightening it until it cuts all the way through. You can buy a pipe cutter on Amazon.
Drain-clearing tools
Toilet and sink plungers, 'snakes' or drain augers, toilet augers, and hydraulic 'blow bags' are helpful to have on hand in the event of a clog. You can buy drain clearing tools on Amazon.