Lampshades collect dirt and dust over time, but cleaning them can be tricky because some types of shade fabrics or materials are easily smudged or stained.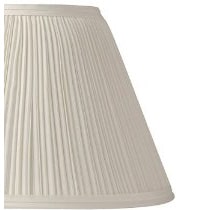 The following instructions can help you with common types of lampshades. Please note: If you have particularly delicate or valuable lampshades or if you are at all concerned about whether the following methods are appropriate for your shade, consult a drycleaner.
First use a vacuum brush or soft, dry cloth to wipe or brush off the inside and outside of the lampshade.
You will need:
• A sink, tub, or basin deep enough to fully submerge the lamp shade
• Laundry detergent or dishwashing liquid
• A soft brush or cloth
• Rubber or latex gloves
Remove all non-washable trim from the lampshade. Fill a sink, bathtub, or basin with warm water. Add laundry detergent or dish soap.
Cleaning a Fabric Shade
Soak the lamp shade in the soapy water and use some suds on a cloth or soft brush to lightly rub out any particularly soiled spots. Swish the shade around in the water, dipping it up and down.
When the water gets too dirty, empty it out and refill the basin with clean, soapy water. Continue the process until the water stays relatively clear.
The fabric shade may seem to stretch and sag when wet. Most types of fabric will stretch back to their original shape when dry.
Air-dry the shade, hanging it from a string over the bathtub or outdoors. If you have removed the fabric from the frame, put the fabric back on the frame before the fabric is fully dry. Then reattach the shade to the lamp and turn on the lamp to heat up the shade, which will speed up the drying/reforming process. If the shade is ruffled or ridged, press out the ruffles with your fingers to accentuate their shape.
Cleaning Other Types of Shades
For these types of shades, the trick is not to get them too wet. Use only 1/4 cup of clean, warm water in a bowl, mixed with mild detergent. Using a whisk or egg beater, whip the detergent to create "dry" soapsuds with the consistency of whipped cream.
Take a dry cloth or sponge and apply a bit of these dry suds to wash the inside and outside of the shade, small sections at a time. If parts of the shade, such as the binding, are glued together, make sure not to get these areas too wet or rub them too hard as this could cause the glue to loosen. Rinse the suds off of the surface with a clean damp sponge or cloth, and wipe dry.
Using either of these methods, remember to clean the metallic reflector bowl before you replace the lampshade. When doing this, use only non-abrasive cleaners on a soft cloth to prevent scratching the shiny surface.
Join the Conversation