In mild-winter climates, roses are generally hardy, though younger plants are more susceptible to cold weather. Stop fertilizing and deadheading (see Pruning Roses) in October to prepare for winter, though you'll need to water if winter rains don't come.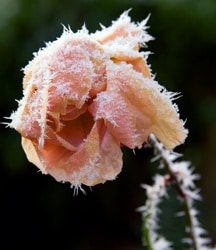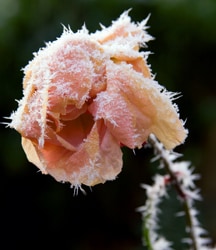 Strip off any remaining leaves, and clean up any fallen leaves and debris (some roses do remain evergreen in mild climates; you needn't strip the leaves off them). Your roses should be fine until it's time to prune.
In cold-winter climates, particularly in places where there are cycles of freezes and thaws, winter protection is more involved. Start by buying roses that do well in your region. Plant them in sheltered spots, and avoid low-lying areas where cold air collects.
Stop deadheading and fertilizing before the first frost, but continue watering until the ground freezes. Do a good garden cleanup in the fall to get rid of fallen leaves and dead and diseased canes. Strip off any remaining leaves as well.
There are two ways to protect plants: mounding and tipping. Mounding is good for areas with cycles of cold and warmth; tipping is preferred in areas with very cold winters.
Start mounding in early to mid-fall. Cut the canes back to about 3 feet, and tie them together. Mound up the soil to at least a foot higher than the base of the bush. Give the plant a good drink just before the first freeze, and then apply mulch over it.
Once the mound has frozen, cover it with an insulating layer of straw, hay, conifer branches, or other material that doesn't compact. Hold this material in place by surrounding it with a sleeve made of wire mesh or a rose cone; be sure there is good air circulation around the plant.
Plants in extremely cold-weather areas should be tipped before the first frost. To tip a shrub rose, make a trench to one side of the plant. Loosen the roots on the other side of the plant and carefully bend the roots (not the trunk) until the plant lies in the trench. Tie the stems together and cover both roots and plants with soil. For a standard rose, dig a small trench for the trunk and a larger one for the canes. Loosen the roots on the side opposite the bud union. Bend the roots (not the trunk) over into the trench. Cover the entire plant with soil.
To protect climbing roses in areas where winter lows reach below -15 degrees F., take the canes from the support, lay them to one side, and cover them with soil. If temperatures range from -15 degrees F. to 5 degrees F., leave them in place, but insulate them with straw and cover them with burlap. In areas where winter lows reach from 5 degrees F. to 15 degrees F., use soil to cover non-hardy climbers.
Soil in containers often is much colder than ground soil. The best protection is to store the plant, container and all, in an unheated shed or other outbuilding until summer.