Thinking about sanding your hardwood floor? You can rent these 3 critical tools for sanding a wood floor: drum sander, random-orbital sander, and edge sander.


Sanding a wood floor is not something to take lightly. Though an experienced do-it-yourselfer can often handle this job, think twice if you're a newbie at home repairs.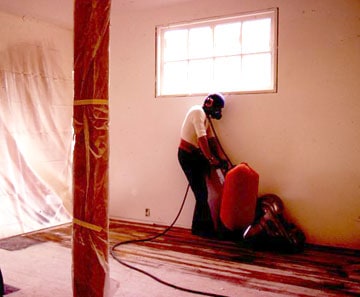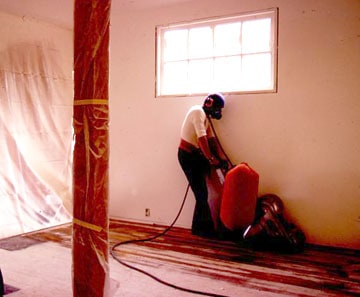 Sanding a wood floor is a difficult job that has potential for disaster. A poor job can result in permanently wavy bumps or visible scratches on what otherwise could be a beautiful wood floor. Our general advice is to hire a professional floor refinisher unless you're accomplished at this work.
Tools for Sanding Floors
Unless you're doing a couple of small repairs or working in a tiny area, you're going to need professional tools for sanding a wood floor. Three main types of floor sanders are available, as discussed below. To do a complete job, you'll need all three. To buy these, you would pay thousands of dollars; fortunately, you can rent them from a tool rental supply or major home improvement center.
You will also need a heavy-duty vacuum for keeping the dust down—most of these sanders are designed to be connected to dust-control vacuums. Talk with the rental desk about a vacuum that can be connected to the sanders.
Also buy enough sandpaper for your job. The amount and grits you will need depend upon the size of the floors and the nature of the finishes you'll be removing. (Ask the dealer for recommendations.) When using any floor sander, you will be working from rough sandpaper that removes a lot of material (20-grit) to progressively less abrasive sandpaper: 60-, 80-, and 120-grit to eliminate scratches and produce a fine finish.
Other supplies you'll need include masking tape and plastic sheeting for protecting areas from sanding dust. You can buy or rent the necessary safety equipment: a respirator, hearing protection, goggles, and work gloves.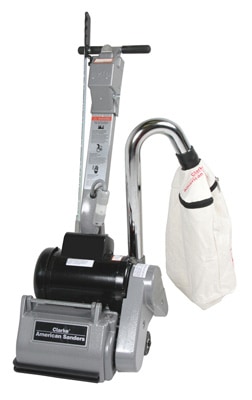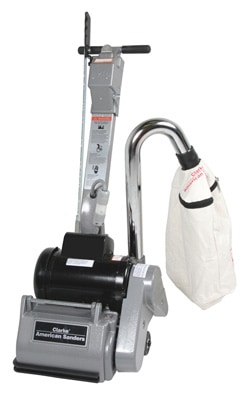 Drum Floor Sanders
A drum sander is used for the first stage of a floor-sanding job. You stand to operate this very heavy upright machine. It rolls an 8- or 12-inch-wide sandpaper belt across a series of drum rollers so that the sandpaper moves in a straight line. On unsanded new wood flooring, a drum sander may be operated on a diagonal to the wood grain at first to flatten the irregular surface. But for refinishing and finer sanding, it should be operated only in line with the direction of the wood grain to avoid leaving scratches, skips, or chatter marks. To rent a drum sander, expect to pay from $50 to $75 a day.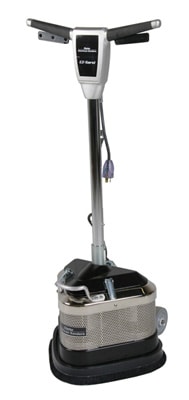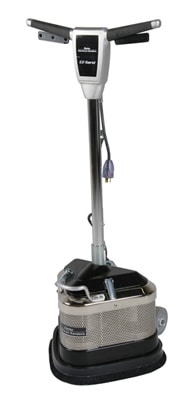 Random-Orbital Sanders
A random-orbital sander is used to remove scratch patterns created by drum or rotary sanders, in preparation for the final finish. In addition, it is used in small areas and tight spaces where a drum sander would be difficult to maneuver and on herringbone, parquet, and ornamental floors. This sander is also used with fine-grit sandpaper for "screen and recoat" jobs, where minimal sanding is required.
At the orbital sander's base, sandpaper is fitted to a flat pad that moves in minute back-and-forth and oval vibrating motions. Because of these tiny movements, this type of sander is much less prone to scratch the wood than sanders that move the sandpaper in one direction.
You can get types with a rounded base or a rectangular base. Floor models can be rented for about $30 to $50 per day. For very small work, you can buy palm-sized models for from $50 to $100.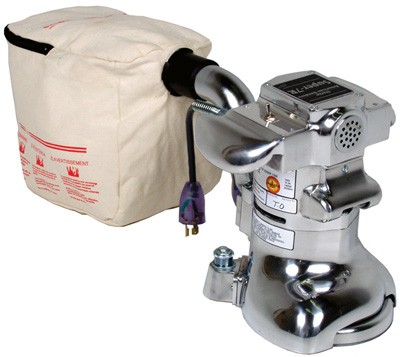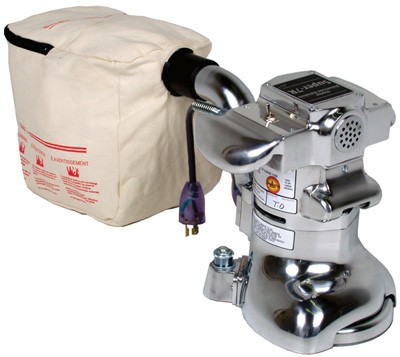 Edge Sanders
An edge sander, or "edger," is a smaller sander that you typically operate from a kneeling position. The edger is designed to work right up to base moldings and walls and go into tight spots where a drum sander can't go. It includes a dust bag and has an orbital motion, like the random-orbital sander above right. You can buy an orbital sander for around $200 or rent one for about $30 per day.
Featured Resource: Find a Pre-Screened Local Wood Flooring Repair Pro