To finish wood that is bare or stained, especially if you want the grain to stand out, choose polyurethane, varnish, shellac, or a transparent, water-based coating. Each finish comes in a range of flat to gloss.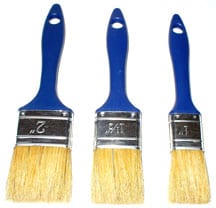 Dreamstime
Polyurethane
The most durable of the finishes, polyurethane is the choice for cabinets, doors, paneling, and other highly used or trafficked surfaces.
Varnish
Because varnish is not as durable as polyurethane, consult with your paint dealer for which type will be best for your project. Varnish is thinned and cleaned up with paint thinner.
Shellac
Available in orange or white, shellac is not recommended for surfaces that may become exposed to water because the finish may become spotted. Brush marks visible during application disappear when the finish is dry. Use denatured alcohol to thin and clean up shellac.
Water-based, transparent coatings
Choose a non-yellowing transparent coating to protect a range of different surfaces, including paint.
Find a Pre-Screened Local Interior Painting Pro