Expert advice on how to maintain and care for exterior vinyl siding, with common problems, easy repairs and vinyl cleaning tips.
Although vinyl siding doesn't rot or wear in the same way as wood, it can crack or puncture. You can keep your siding in good shape by trimming shrubbery and trees away from the house so they don't mar the material. If a section does become badly damaged, you'll have to replace it.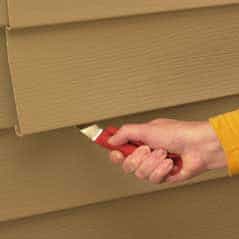 Heavy winds can sometimes pull vinyl siding off a house, so be sure it is firmly attached or consider other options in hurricane and tornado country.
Methods of Cleaning Vinyl Siding
To keep your vinyl siding looking good, clean it once a year or so. You'll need a hose, a sponge, a stiff-bristle brush, a bucket, and a mild detergent such as laundry soap or a TSP substitute. After scrubbing the surface, rinse it with clear water. You may want to use a long-handled car-wash brush to easily extend your reach, or use a high-pressure hose if you have grime built up from air pollution and exhaust. Be sure to cover nearby plants with plastic tarps.
Vinyl color is not a surface coating but permeates the material, so the color won't wear away. If you don't like the color of your vinyl siding, you can paint it. Two coats of 100% acrylic latex paint are recommended for a sound finish. But keep in mind that if you do paint siding, you will need to repaint it periodically, the same way that board siding has to be.
How to Power Wash Siding
Helpful tips for cleaning exterior siding, including techniques for removing mildew and using a pressure washer.
Is your home's siding looking like it could use a facelift? If it is, a thorough cleaning may bring it back to life. Even when siding looks like it desperately needs a new coat of paint, it may really only need a good washing.
You won't be able to tell for sure if your siding needs painting until you wash it—which is an important first step if you need to paint. The challenge will be to do this as effectively and easily as possible, without damaging the siding.
The best way to clean siding will depend on the particular type of siding and the situation-your time, tools, energy, and whether your house is one story or taller.
The most time-consuming—but thorough-way to wash all types of siding, from wood to vinyl, is with sudsy water, a hose, and a stiff-bristle nylon scrub brush screwed onto the end of a telescoping pole. For lower parts of the siding, you can just handhold the scrub brush.
To hand scrub siding, mix TSP or a non-phosphate substitute with water according to label directions (often about 1/2 pound TSP to 2 gallons of water). Choose a bucket that the brush will easily fit into. Then, wearing rubber gloves and any other protective gear recommended on the detergent label, scrub the siding from the top down, working in areas about 20 feet wide and the full height of the wall. If possible, work in the shade.
Rinse with clear water as you finish each 20-foot section. Scrub in line with the siding panels (horizontally for typical lap siding). If the siding has signs of mildew, see How to Remove Mildew From Siding.
Hand scrubbing a house is a big job. And the bigger your house, the more you are going to feel like you are in training. If your home is more than a single level, be sure you follow all ladder safety precautions. (For more about this, see Ladder Safety.)
To make the work much, much easier, you can consider "power washing" it with a pressure washer, but only if you have vinyl, steel, or aluminum siding. Even with these, you have to be very careful not to damage the finish or the siding itself—a pressure washer can actually dent aluminum siding, and it can peel the finish off of any siding. While pressure washing done right can be a viable alternative to hand scrubbing, be aware that it may end up being the first step to re-painting your house if not done with care and skill.
If your siding is made of wood, brick, stucco, or has been painted with paint that may contain lead, don't use a pressure washer as it can cause the paint to peel, erode the surface, and drive water into the interior of the walls.