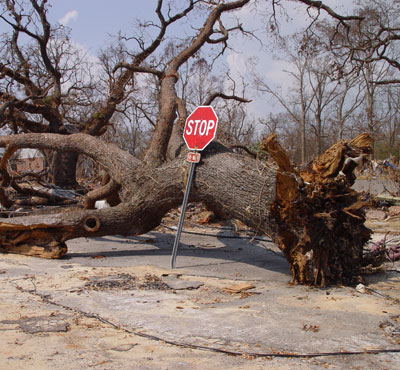 As the wrath of a hurricane approaches, preparedness is key. Following are recommendations that are critical to preparing for any major tropical storm:
First and foremost, know what is happening. Stay tuned in to weather apps, NOAA Weather Radio, or local radio or television stations regarding storm conditions and instructions. A hurricane WATCH means that hurricane conditions are possible; a hurricane WARNING means that they are expected, usually within 24 hours.
Preparing to Evacuate
Discuss an evacuation plan with all members of your household. Figure out where you will stay if you must leave your home. Pack up important items for quick evacuation if instructed by authorities to leave. Be sure you have:
1) Important documents such as deeds; insurance policies for auto, homeowner's, and life; wills and trusts; driver's licenses with your correct address; Social Security cards; birth and marriage certificates; passports; recent tax records; a list of important phone numbers; and so forth. Keep all paper documents in zip-style plastic bags.
2) Important prescription medications and medical supplies as well as any special equipment or supplies needed for children, the elderly, and the disabled members of your household.
3) Warm, comfortable clothing, rain gear, and heavy shoes.
4) Sleeping bags and pillows.
5) A full tank of gas (get this ahead of time), car keys, and maps of your area and any other areas where you'll be traveling. It's also wise to have an adapter for plugging your cell phone into the car's cigarette lighter.
6) One flashlight with extra batteries per person, and a battery-operated AM/FM radio.
7) A first-aid kit plus soap, sunscreen, anti-diarrhea medicine, a laxative, activated charcoal, an antacid, and a sewing kit.
8) Bottled water. You'll want at least 1 gallon of fresh water per person per day for a minimum of three days.
If authorities advise you to evacuate, leave immediately.
Other Supplies
Whether you stay in your home or leave, plan to have these things on hand:
1) A three-day supply of non-perishable food such as canned fruit, vegetables, meat, soup, milk, and juice (don't forget a manual can opener); high-energy foods such as peanut butter, trail mix, and granola bars; and any special foods needed by members of the family.
2) Plastic cups, plates, knives, forks, spoons, aluminum foil and sturdy plastic garbage bags.
3) A fully charged A-B-C fire extinguisher.
4) Matches in a waterproof container.
5) Signal flares.
6) A compass.
7) An inexpensive antenna for your television (in case the cable goes out).
8) Paper and pencils or pens.
9) A plastic bucket with a tight-fitting lid.
10) Toiletries such as toilet paper, feminine hygiene products, and the like.
Preparing Your Home & Yard
You may need a few helpful tools and building supplies. To avoid standing in long lines, it pays to get these things long before a storm threatens:
1) Several rolls of plastic sheeting and a staple gun to protect belongings and help seal windows and doors. You should also have a pair of heavy-duty scissors.
2) A shut-off wrench to turn off the gas and water to your house (be sure you know how to do this ahead of time).
3) Duct tape and rope—for a variety of uses.
4) Safety equipment such as heavy leather gloves, dust masks, respirator, and safety glasses.
5) Demolition/construction equipment such as a straight-claw hammer, flat bar, crowbar, screwdrivers, adjustable slip-joint pliers, and an assortment of nails and screws. A shovel may also come in handy.
6) You also may want to have battery-operated power tools, including a power drill and screwdriver tips, with fully charged batteries (and ideally an extra set). A chain saw with extra fuel can come in handy; add stabilizer to the gas to help it last for a few months.
7) To board up windows and doors, you'll want 4-by-8-foot sheets of 1/2-inch exterior plywood and plenty of 1 1/2-inch outdoor screws (screws are stronger and easier to remove than nails). If your home is masonry, install anchors to receive the screws, and pre-drill the plywood sheets so you can install them quickly if necessary.
8) Before the storm threatens, thin out diseased or damaged limbs from trees and remove any branches that could present a serious hazard to your home.
9) If flooding is likely, be sure you have plenty of sand and sandbags on hand.
Important Resources:
National Hurricane Center Tropical Prediction Center
The National Hurricane Survival Initiative
The Centers for Disease Control and Prevention (CDC)
ALSO SEE:
How to Install Metal Hurricane Shutters
What to Do During a Storm Disaster